How effective is your Waterline treatment Product in the real-world?
Download to Find Out
If a product doesn't perform in the real-world, what's the point? Too many dental offices are spending hundreds - even thousands - of dollars on treatments that are not actually improving the safety of their patients.
Download this guide to learn how well your treatment protocol works in practices just like yours and choose what works for your office.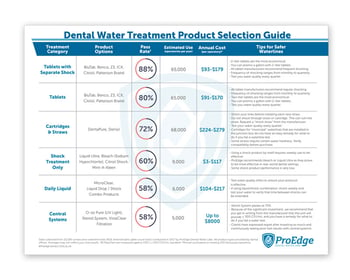 In this guide, you'll gain access to:
Treatment Product Options
Real-World Efficacy Rates
Estimated Annual Costs
Estimated Usage Across US Dental Offices
Helpful Tips for Success with Each Category