LIVE WEBINAR: DENTAL WATERLINES
Crashing the Biofilm Party! Dental Unit Waterline Best Practices for COVID19 Aftermath & Beyond
November 6, 2020 @ 11:00am mst
In this new world of infection control, it's vital to not only know the why, but the how. Leveraging the latest research and scientific understanding, Kellie Thimmes and her team leverages 15+ years experience in dental waterline testing and treatment to make sure you know exactly what the science shows us about waterline treatment and testing.
At the end of this webinar, you will:
Know how to ensure safe waterline post-COVID19 shutdowns

Understand why biofilm development can be challenging

Know the latest research in waterline treatment protocol efficacy

Gain tips & tricks for efficient and cost-effective waterline maintenance

Know what it takes to be CDC compliant and how to protect your practice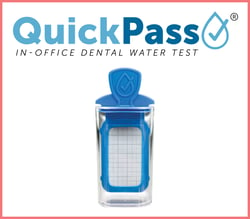 1 Live CE in infection control will be available via CE Zoom.
Attendees will be able to request a complimentary 4-pack of the QuickPass® In-Office Dental Water Test (An $89 value!).
This webinar is free of charge.
"I have participated in many, many courses during this time and this is by far the most informative course yet. Thank you!"
Lisa A. Dental Hygienist